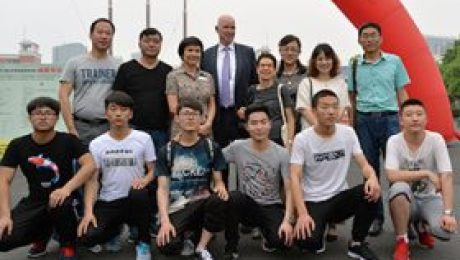 On June 1, 2017, Yuni Nguyen, President of the American Language Academy, met with Professor Tao Yu, Dean of the International Education Department at the Zhejiang Institute of Mechanical & Electrical Engineering (ZIME) and Dr. Susan Jagendorf-Sobierski, Executive Director of International Education at SUNY Cobleskill . The three educators discussed the potential for the American Language Academy to assist the two universities as they prepare students to maximize their level of English language knowledge. ZIME's and SUNY's  Path Pro Program offers Chinese students a range of options for academic and career development beyond the vocational education students receive in China. Path Pro provides those students with accredited outcomes that will be recognized by 4-year U.S. universities and colleges toward bachelor degrees.
ALA's Intensive English Program serves as a bridge spanning the first two years of an undergraduate dual degree program  between the native country school and the last two years at an American institution.  We ensure that students have both the requisite language and academic skills.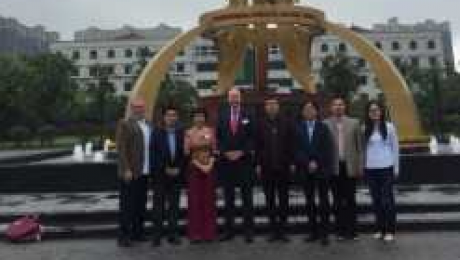 On June 5, 2017, Yuni Nguyen, President of the American Language Academy (ALA) visited the Xi'an International University (XAIU). Ms. Nguyen met with Guo Xinhua, Dean of International Cooperation and Director of International Center, Geoffrey K. Tsang, Vice Director for International Programs, International Center Associate Dean, College of International Cooperation and several members of their staff. The meeting was arranged by Tang Cai, China Program Coordinator. for the American Language Academy.
XAIU is located in the heart of Xi'an and boasts two beautiful campuses totaling 135 hectares, a student population in excess of 23,000, and faculty and staff of over 1,500. The University includes 11 colleges with 34 departments offering a total of 101 major fields of study, which cover economics, humanities, management, engineering, agriculture, medicine and law. It has grown into a multi-discipline and multi-layer comprehensive university.
The XAIU Deans are interested in both teacher training and the possibility of an International ALA operation headquartered at XAIU. Further, ALA and XAIU will establish a framework whereby ALA will act as a bridge to help XAIU establish degree programs with appropriate ALA pathway partners. ALA has pathway agreements with 74 US universities and colleges.