American Language Academy – SUNY Cobleskill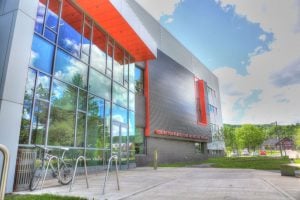 Centrally located in the eastern part of New York state, on the campus of the State University of New York College of Agriculture and Technology at Cobleskill (SUNY Cobleskill), ALA-SUNY Cobleskill is one of American Language Academy's locations on the East Coast of the United States.
ALA-SUNY Cobleskill offers Intensive English to international non-native English speakers and US residents who seek to increase their English proficiency for academic, professional, and social purposes. Students receive integrated English language training in the areas of listening, reading, writing, speaking, vocabulary and grammar. In addition, students learn critical thinking and problem-solving skills, critical listening and reading skills, research skills, and expository and argumentative academic writing, while engaging in academic tasks they will perform and encounter in English-speaking higher education institutions.
Through ALA's partnership with SUNY Cobleskill, students have the advantage of obtaining admission to SUNY Cobleskill without a TOEFL, IELTS, or other standardized English language proficiency test score. SUNY Cobleskill, established in 1911, provides nationally recognized degree programs through its Agriculture and Natural Resources and Business and Liberal Arts & Sciences schools, and offers 25 Bachelor's degree programs and 31 Associate's degree programs in the areas of agriculture, environmental, animal, and plant sciences, business and finances, and more.
Students studying at ALA-SUNY Cobleskill benefit from studying and living on the campus of SUNY Cobleskill, having access to student services and campus recreational and social events and clubs, and participating in Experiential Learning activities while having access to SUNY-Cobleskill's spacious campus facilities such as classrooms, library, labs, dining hall, dorms, and fitness center.
While attending English language courses at ALA-SUNY Cobleskill our students become a part of a diverse community of international and American students who share the same passion for education, similar career goals, and interests. Our international students cultivate lifelong friendships with both American and international students from other countries and learn American culture first hand.
Our campus is easily accessible by public transportation and near restaurants, shops, and independent housing. Students also have access to nearby off campus parks, recreation, museums, entertainment venues, shopping and more.
For more information about ALA-SUNY Cobleskill contact our office at 336-285-7318 or admissions@ala.edu. For information about the State University of New York College of Agriculture and Technology at Cobleskill (SUNY Cobleskill) go to www.cobleskill.edu.
ALA-SUNY Cobleskill
Address: 106 Suffolk Cir, Cobleskill, NY 12043
Telephone: +1 (336) 285-7318
Email: admissions@ala.edu
Note: ALA-SUNY Cobleskill has submitted to CEA an application for accreditation. ALA-SUNY Cobleskill is not accredited or authorized to enroll nonimmigrant students under the Form I-20 at this time.