Curriculum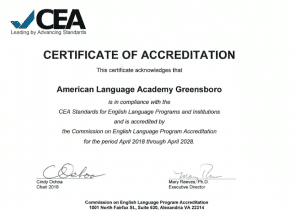 ALA's curriculum combines English language learning with American cultural learning. From the start of your language study we help you develop ALL the linguistic skills (Reading, Writing, Speaking, Listen as well as Grammar) you will need for success at a university or a better job. Language skills are practiced using the same kinds of tasks you will actually do when in university classroom or a work environment.
A major part of our curriculum is experiential learning activities that help give you an American cultural awareness. These take you outside the classroom where you can learn how the various parts of Americans society live, work, study, and play and the things they consider important. By understanding American lifestyles and values, you will feel more comfortable living and studying here and be more successful during your studies.
ALA believes that your personal growth is as important as language learning while you are with us. Therefore, we provide social activities are also a part of our curriculum, not separate from it. They are a subject of study, as well as something to do. We organize events to help you meet and get to know American and other international students (conversation partners) who can help you, at first, and then become your friends. As you can see, ALA does all it can to meet ALL your needs. We consider every student part of our ALA family.