Add Value for Your Business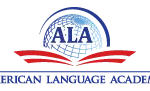 English Language training is in high demand all around the world. English is becoming the language of international business and government diplomacy. ALA's experience and success since 2007 has established us as one of the most respected English language training providers in USA.
ALA is seeking individuals and group form partnership with in several different models. A partnership with ALA has tremendous value for you with potential return in these ways:
ALA's products and services are different from competitors in the market allows higher price points and revenue margins
ALA is nationally accredited and licensed by the U.S. Department of Education for English Language means global recognition of high-quality standards of training
ALA's curriculum is unique and specially designed by linguistic experts that offers the latest teaching methodology and e-learning platforms
ALA can provide experienced native speaking teachers and training globally
ALA's partner institutions in U.S., Canadian, and Australian provide a market for planned pathway to higher education abroad
ALA's offers flexible and convenient learning systems. Economic ways to learn at home or in campus.
ALA offers revenue earning with commissions and profit sharing for different business models
ALA can expand your customer base, lower risk, fully utilize facility, staffing, and other resources to maximize ROI
The above capability allows ALA partners to develop a business model that is diversified enough and differentiated in the market place to assure success.
American Language Academy (ALA) is eager to sign an agreement with prospective partners to extend our market presence to introduce and deliver ALA English Language Programs. It is the main objectives of ALA to structure such an arrangement to ensure quality and control on these English programs and at the same time ensure a suitable return on investment for the partner. ALA wishes to consider all possibilities and is open to suggestions from partners for the terms and structure of the agreement.
Partnership and Investor
ALA partnership opportunities may take several different forms:
Master Distributor
Exclusive regional or national territory Licensee
ALA Program Owner Operator
Open your own ALA Center and implement ALA courses offerings using your local teachers or ALA's American teachers
Integrate ALA English courses into your current institute curriculum or offerings.
Conduct ALA courses at locations outside your center
Offer customized curriculum design for specific training purposes
Official Agent/ Representative office
Provide study abroad higher education & visa advising services
Recruit students and or new partners for ALA and or their university partners
We hope you will explore these opportunities with us. Please complete and submit the following information and we will contact you by email for further discussions.