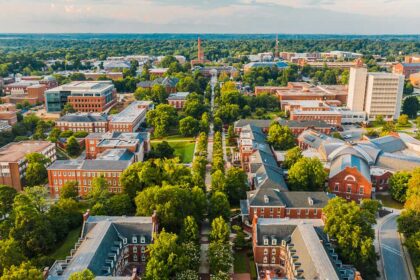 On Friday, April 24, 2019, American Language Academy (ALA) entered a Memorandum of Understanding for English Language Instruction Programs with the University of North Carolina Greensboro (UNCG) located in Greensboro, North Carolina. The agreement was signed by ALA President Yuni Nguyen, UNCG Provost Dana Dunn PhD, and UNCG Director of International Recruitment Carol Mandzik.
The agreement allows ALA students who want to enroll at UNCG the opportunity to demonstrate their English language proficiency through graduation from ALA's Intensive English Program Level 5 course instead of by meeting the TOEFL, IELTS, or another English standardized test score requirement. UNCG will also provide conditional letters of admission for students seeking to attend the university after finishing their studies at ALA.
UNCG was founded in 1891 and has been serving students for over 125 years. UNCG offers an array of on-campus and online degree programs in the fields of Science, Math, Business and Finance, Arts and Music, Humanities, Education, Information Systems, Public Health, Social Sciences, History, Culture, and Diversity Studies, and more. With over a hundred majors and minors to choose from, students have many educational and career possibilities.
For more information about UNCG go to https://intladmissions.uncg.edu/ or contact ALA at admissions@ala.edu, 336-285-7318, or visit our Student Services office on campus.