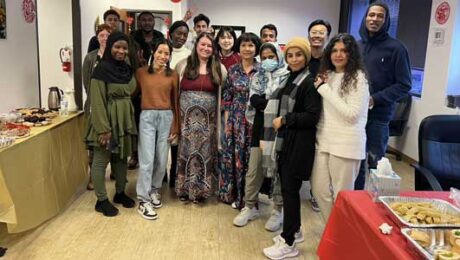 Making friends is your single most effective tool for learning a foreign language. The difficulty of finding speakers of the language you're trying to master when you're in your home country can make this an unrealistic challenge, but here you are trying to learn English in an English-speaking country, so take advantage of it! Here are a few ways to make friends:
There are all kinds of clubs in any small or medium-sized city, so look for something that interests you. You could join a book club, a chess club, a gardening club, a dance class, or a gym class. Of course, you will need to talk to the people in your club to fully enjoy this situation, so don't hesitate to ask someone you like for a cup of coffee or invite them to dinner.
There are many volunteering opportunities that will combine doing good for the community with meeting new people. You can participate in a soup kitchen, join your local temple, mosque or church, or volunteer at the library. In all these circumstances, you should be able to meet people and use your English.
Neighborhoods in the U.S. may seem like blocks of closed doors, but with a little effort you will discover that most people want to have a good relationship with their neighbors. The best way to meet your neighbors is to take them a pie, cookies, or a dish from your country. Introduce yourself and your family if you have one. Invite them over for coffee or dinner. You can even be the one to organize a block party—your neighbors will probably be thrilled!
You may think that making friends in a foreign country is too hard a task, but most people want to know you and learn about your culture as much as you want to know them. For someone who's never travelled, meeting a person from another country is like going on a little adventure, so don't be shy! Get out there and enjoy showing local people all you have to offer!